Not all homeowners need big trucks to move their things. This is especially true for those who are just starting their families having only one or two kids. In such cases, all their household belongings can be fitted into a smaller truck or its equivalent.
The Same Kind of Service Only Smaller in Size
When it comes to the transport, such families will also need the same kind of moving service, only in a lower scaled size. They will also need to have their belongings packed in boxes, carried and loaded to the truck and then unloaded at the final destination.
The Nature of Small Moves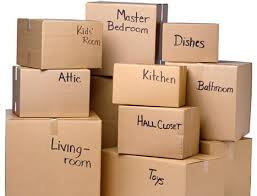 Moving companies such as Ryder and Enterprise also cater to small household moves. These are types of moves that that fail to satisfy commercial van-line minimums. They also offer shipping services for objects which are too big or too difficult for standard mail services.
Basically, you can consider small movers as your alternative to do it yourself moving. With such movers, you are able to take advantage of a professional and full-service mover without paying a big price.
Uses of Small Movers
There are times when using a small mover is more practical than using a full-size mover. Here are some of the applications of small movers.
1. When the goods to be moved are not too many or too big.
This service is much more practical for an apartment dweller, a homeowner, a college student, or anyone for that matter who is tasked to move a moderate amount of items.
Whether it is the entire household, or just a few items, a small mover would definitely reduce your cost than if you would hire a full-size moving company. The cost will also be a little bit more than if you will do the moving yourself.
For these reasons, it would be more practical for you to hire a small mover. In doing so, you will be able to reduce your stress and the work will be done professionally.
2. When you need special shipping services.
If you are shipping valuable and fragile objects, small movers are one of your best options. They are qualified, experienced and have the right manpower to take care of items that are too difficult to handle.
If you are not confident about the ability of standard shipping services to handle your precious items, such as your family's heirloom pieces, a grand piano, or any household item that is worth a fortune, you will be better off hiring a specialty small mover.
3. When you need the service of a full-sized mover but can't afford them you need a small mover. These small movers are quite capable of shipping the following items:
Pianos
Cars and motorbikes
Household items, partial loads or single items
Antiques and heirlooms
Oddball items
They are also capable of providing the following services:
Air freight delivery
Storage
Packing and crating
Corporate relocation
Estate distribution
Local, long-distance or international shipping and moving
Benefits of Hiring a Small Mover
Using a small mover rather than a full size professional moving company offers you a lot of benefits. They include:
There is no minimum number of items, or minimum weight requirements. That means you can send one single item, regardless of its weight, just as long as their vehicle can accommodate the item. You will only pay for the shipment of that single item.
A full size moving company will charge you for the use of their vehicle whether you have fully used its space or not.
Their service charges are usually based on the weight of the item. If your item is really not that expensive, you will be charged according to its weight. Otherwise, the value of the item, if it is not too big, will be the determining factor.
There are no hidden fees that will surprise you.
A small mover doesn't usually charge you with unexpected or hidden fees. Their moving charges are normally computed using a combination of distance, weight, service and manpower that you choose.
Most full size moving companies require a flat fee if you don't satisfy their minimum weight requirement. Some companies charge higher rates when you schedule your move on holidays or during peak season.
However, small movers estimate their charges on the actual weight of the item or the weighted average of several items that will be moved.
Most small movers handle local, national and international shipments. They can also offer basic minimum insurance coverage at little or no cost. Generally, you will only be charged on the hour if your move is only within the same state.
Furthermore, if your final destination is not yet ready, most small movers can also provide safe and secure storage to the items that you need to ship. But to be sure, you need to check with the mover ahead of time.