If you are overwhelmed with the excitement of moving into a new home, you might be induced to spend more than you should. It is very important to reign in your exuberance if you want to reduce your moving costs.
The Stress of Moving
Moving is also very stressful. When you are stressed, the veins and arteries that are supplying blood to your brain contract. When the flow of blood to your brain is restricted, you just can't think straight, and you are liable to make decisions that will hurt your pocket.
Excitement also causes some stress in your body. Moving is really difficult to do, and is very expensive too. Based on the study made by the American Moving and Storage Association, the cost of an interstate move that will take about 1,220 miles will cost $5,630 on the average.
That kind of money will already be able to buy you a luxurious vacation in a beach resort. Even if your move is only within your state, it will still cost you $1,170 on the average, according to AMSA.
Reducing Your Moving Cost is Easy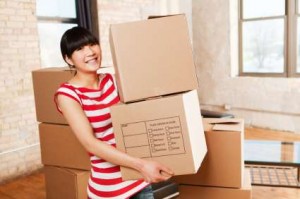 You can easily cut the cost of your transfer in several ways. But you need to be serious about it because it will take some effort on your part. Here are some tips on how you can do this.
1. Get quotes from several moving companies
You will be able to know the going rate of moving companies if you will ask at least 3 of them to give you a quote.
But to be fair, specify the total distance that the transfer is going to take, the estimated weight of the items you are moving and if possible their specific sizes. Include any special care or treatment that you need for these items.
Before choosing a moving company, be sure to check your local Better Business Bureau to see if it is a legit operation, and if there are complaints about its services that you should know about.
2. Apply for tax deductions
If your move is because of a job transfer, it is possible that you are eligible for certain tax deductions. In other words, you can charge some of your moving expenses on your taxes.
Based on an Internal Revenue Service regulation, if you are a full time employee, you can deduct reasonable moving expenses from your income tax if you are moving 50 miles from the location your old job.
3. Use old but still functional boxes.
Buying new boxes to pack your things for your upcoming move will jack up your expenses unnecessarily. At present day costs, the price of a moving box can range from 74 cents (small) to $19.97 (for delicate items like a flat LED TV).
You can save a lot by starting early and collecting old but usable boxes that are suitable for your things. There are lots of them in your local grocery stores, and supermalls.
4. Move during off peak season.
Most families schedule their move during summer when the children are out of school little knowing that prices are high because it is the peak season.
Therefore, if you are able to flex your moving schedule, it is better to have your transfer during off season. Your moving charges will be considerably lower since you have no competition whatsoever.
Most people also schedule their move on weekends to take advantage of their no work schedules. Other people choose to move at the end of the month.
So, don't schedule your move on such periods. Movers such as Penske and Home Depot have very little work on these days and they will be willing to give you lower rates than usual if you schedule your move during off season.
5. Use your insurance.
Check your home insurance coverage. If there is a tack included in there that provides for protection while your stuff is in transit, you may not need to buy added protection.
The government requires movers to offer basic insurance coverage to their clients to protect their belongings while in transport. Movers integrate this insurance to their moving fees.
But this basic insurance will not be enough if you have stuff that are expensive. Thus, the company will offer you additional insurance. But if your present home insurance already provides some protection, you may not need to buy additional coverage.
6. Do it yourself.
The best way you can save money in your move is just by doing it yourself. But then, you have to really prepare everything – from packing all your belongings on your present location, to unpacking them in your new destination.
In addition, you have to hire a truck (if your stuff is too many or too bulky) and also a moving crew. Admittedly, there is a lot of preparation and work that you have to do. But if you are really tight on the budget, this is your way to go.