Most people assume that the best way for moving personal belongings is by using a van or a moving truck if the items are too many. But what if you are required to move an entire household?
Of course, you can still use vans and moving trucks but it will take a lot of work, and maybe a lot of trips before the entire household are transferred from point A to point B.
Don't you know that there is a better and faster way to do it? The modern way of doing it is by using moving containers such as those used by U-Haul and Home Depot.
The Convenience of Moving Containers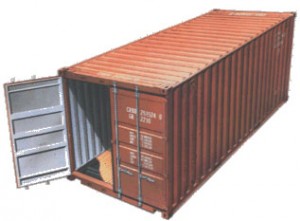 These moving containers are deposited right outside your door by the moving company that you will hire. Most of these storage containers are large enough to accommodate an entire household of furniture, or at least a majority of it depending on the size of your house and the size of the storage containers that you choose.
This method is very convenient because it offers portable storage solutions that can literally take the work out of moving from place to place. You can take advantage of its other collateral benefits as well.
Here are the reasons why moving containers are better than other forms of truck or van rentals:
1. Much More Affordable
Using a moving container is a more affordable option for transporting goods as compared to hiring a typical professional moving company. You may not even require professional help in putting your household items in the container and arrange them in such a way that all the spaces in the container are maximized. Your family and friends can easily do that.
You will only be paying for the rental of the container and not the workforce that is typically included if you hire a professional trucker. But you can also choose to use the crew of the moving container, if you need your items to be professionally packed inside.
2. Convenient and Easy Loading
With a moving container, you can just simply carry your furniture into the container and put it down without the need for complicated tools or equipment. In contrast, if you use a moving truck, you will encounter several difficulties, bordering into hazardous situations, in order to load your furniture into the truck bed.
Portable moving containers eliminate these risks and hazards by offering a very easy and convenient way of ground level entry.
3. Enhanced Security of Your Belongings
When you hire a moving container, the company will provide the container, and drop it off right at your door. You will be given its key and only you can open it whenever you like.
When you have already filled it up with your items, you can lock it the entire time that it is transported to your intended destination. No one can open it but you. All your items are absolutely secured – just as long as you have the key and you don't let any stranger get a hold of it.
4. Efficient Delivery
When you have already stacked up the moving container, the company will then pick it up and transfer it to their moving truck. They have a special lift and relevant tools and equipment that will do this in a very safe and efficient manner.
You can be confident that all the precious vases and glasses inside the container will not be harmed because the process of lifting up the container and transferring it to the truck bed is very easy for these professionals to do.
5. Very Flexible Alternative
Most of the moving companies that rent out moving containers have a number of choices as to the size of their containers. You can choose the container size that you think will accommodate all the things you need to transport.
However, be aware that there are companies which charge a flat rate whether you are moving your entire household items or just the items for one or two rooms. With this level of flexibility of moving containers, you can move as little or as many items as you like
6. Wide and Extensive Area Coverage
There are a number of portable moving container companies which have the capability of making cross-country moves and even international moves. Performing long-distance moves is more challenging than just moving across town. But with portable moving containers these kinds of moves are made easier and faster.
Most of the typical professional moving companies don't have the capability of doing this simply because they don't have the logistics. That means they don't have the tools, equipment and trained manpower to pull them off.
So, if you are thinking of moving, you need to consider the alternative of moving containers. You can save time and money, and even make your move more efficient and safer.