It is easy to imagine that once you enter your new home that the process of moving is done, it is easy to want this after the exhausting process of getting from your old home into the new neighborhood. Unfortunately, moving is anything but this simple. Moving is a long and arduous process, which does not end the moment you step into your new home. The moment you enter your new home, another phase begins: conducting inventory.
The point of conducting inventory is to ensure that your belongings arrived in one piece and that all of them are present. Which means that you must unpack every box to conduct inventory. The three phases of the inventory are: do it while the movers are present, do it after they are gone and then report any damage or loss to the moving company. So let us start the process.
1. When The Movers Are Still Present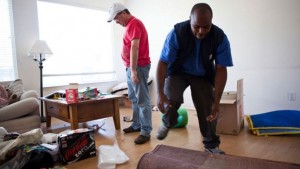 Movers have an inventory sheet which contain all your belongings, their quantity and the condition they were in when you were moving. Most moving companies will give you the job of checking the items of this list as they carry the items into the house. Read the descriptions and numbers to be sure that what they are bringing in is exactly what is on the list. To do this you have to focus and avoid distractions
Sometimes there are many movers carrying the items in and out of the house which can make it difficult to track all of them. So it is best to station yourself at the door and let them in one by one so that you are aware of what has come in and what has not. Check the items off the sheet and do not tire till the job is done. If there are any items missing from the list, mark them and inform the movers. Do not sign the inventory sheet until you are sure that every single one of your belongings has been brought in safely.
Go to your appliances and furniture and assess them carefully. Sometimes missing parts, broken bits, tears and scratches can be missed when you are checking the list. Take your time, because this can cost you a lot of you rush the process. It is advisable to have a friend or other family members so that you can break up the work into manageable bits, one of you can check the items of the sheet while the others assess the items when they are put down.
Plug in appliances to ensure that they are still functional before signing the sheet. If you notice any damages to items, note them in the inventory sheet. It is best to do this as it is easier to find missing boxes or to have discussions about damages while the movers are still present.
2. Once The movers Have Left
As you unpack in your own time, keep note of items that you find which are missing or damaged. It is best to write this down, as memory can fail you. Usually the missing items will be noted before the movers leave, but if anything inside the boxes is damaged it can go unnoticed.
If you are getting assistance from other people, ensure you all have the inventory sheet. This is so that they can note what is missing and damaged. Check all appliances and electronic equipment, as they may seem fine but once you attempt to use them they fail to work. This should be done within the early days of the unpacking process, if you wait till it's late the insurance may not cover any costs.
3. Report All Missing items and Those that Are Damaged
If you notice any missing items, contact your moving company and see if they can find the item. Sometimes the items are forgotten on the truck, so it just has to be found. Once found the movers will drop it off or send it.
If the items cannot be located, or if you have belongings that were damaged, contact the insurance company. You can do this either through your own insurance or the mover. File your claim and give information regarding the item.
This is why inventory lists are essential. They have everything that you owned and packed. The inventory list is your personal inventory sheet, and if possible have multiple lists in case you lose one. Also on the outside of each box, ensure you have a list of the items it contain with any previous cracks or scratches listed.
To ensure that you have very little to worry about while conducting your inventory, hire a good moving company like Budget, Home Depot Rental or Menards. They will guarantee you the best customer experience, with very little worry at the end.