You have to face it: there are a lot of things you need to move and you just can't do it yourself. You really need hired help or you won't be able to accomplish your move at the appointed time.
The Usual Practice
But don't just do what others have done. Most people who need to move their belongings from one place to another insist on hiring professionals. That is absolutely right, for only a professional mover such as Ryder and Enterprise can do that job in the right way and the right time.
The All Important Moving Crew
Unfortunately, most homeowners forget one important thing: the state of mind of the moving crew. This is all important when it comes to transferring valuable things. If the crew is in the right mood, they will go out of their way to take good care of your belongings and see that they arrive at your new destination safely and in one piece.
A Very Important Approach When Moving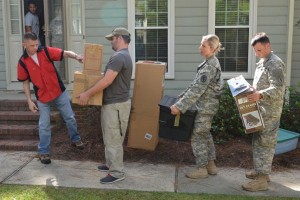 When using a moving company, you are entrusting all of your belongings, including your prized possessions on its crew. You may not have been introduced to the members of the crew before they started carrying your stuff and load them onto their truck.
Can you imagine if one or two of these guys don't like you? They would just suddenly lift your boxes, carry them carelessly, and just drop them down on the truck bed. What would happen if those boxes have fragile and expensive things in them?
Now you know why you also need to be properly introduced to the crew, and why it is important to talk to them, not just the moving manager or the supervisor. The workers are the ones that will handle your things, not the manager of the moving company.
How to Be Nice to the Crew
There are many ways you can get the full cooperation of the working crew. Here are some suggestions:
1. Have cold drinks ready such as soda, sports drink, orange juice or other refreshing drinks.
Lifting, carrying and loading boxes into a truck are not easy work. It takes strength and stamina to do it. It would only be common decency to offer cold and refreshing drinks to the crew whenever you sense that they are already growing tired.
Just look at what will happen if you will do this. The crew will realize that you are concerned about them. In return, they will repay you by being careful in handling your things.
2. Be ready to buy them snacks or lunch if need be.
Offering to buy them food when it is time to eat will make a great difference. Even if the crew is not cooperative at the start, giving them some amount of food for free will readily change their attitude.
To make your generosity more effective, do some sleuthing. Ask one of the men about the kind of food they want to eat. If they like pizza, then go buy several pieces for them to enjoy. Be sure that it is more than enough so that they won't feel your scrimping on them.
Only a true scoundrel will not be affected by your kindness. With food on their stomach (for free) they will be ready to do more than what is required by their boss.
3. Give them a tip.
Here, you are treading on thin ice. Some companies don't mind you giving their workers some form of reward, but others prohibit their workers from receiving anything from their customers.
If the company allows it, then you decide on how much tip you will give the workers. Such tips are not like the tips you give in a restaurant. Usually, it depends on the time it took to load and unload the truck and not the time it took them to reach your new location.
Some suggest that for a 4 hour loading and unloading work, $10 per person is appropriate. If it took a full day to do the work, then $20 per worker would be fine.
In addition, if the workers did a lot of heavy work such as lifting and carrying heavy furniture, a piano or such like, you should consider adding some more.
When giving a tip, you should consider a tip from the movers themselves: You should not give a lump sum to the supervisor or the manager. The workers would be better served if the tips are personally given to each of them. In that way, you have shown your appreciation for the work they did for you.
One way to ensure the safety of your belongings, especially your prized possessions during a move is to not forget the little guy – the worker. He will be lifting, carrying, loading and disembarking your things. If you will take care of his interests, he will take great care of your possessions.